Pemberton's Headquarters is a National Historic Landmark. In this building on July 3, 1863, Confederate General John Pemberton met with his subordinate officers and decided to surrender the city of Vicksburg to Union General Ulysses S. Grant. The fall of Vicksburg gave the North undisputed control of the Mississippi River, secured a major objective of the Anaconda Plan, and effectively sealed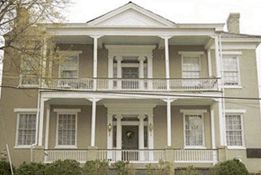 the fall of the South. Acquired by the National Park Service in 2003, the building was previously used as a private residence, a Catholic boarding school, and a tour home/bed and breakfast. The building today remains in structurally sound condition; however, elements of that condition have deteriorated and will continue to do so. Needed stabilization repairs have been identified and some are underway. Full rehabilitation and operation will enable visitors to experience a Confederate General's headquarters, his development of military strategies, and to learn about the life of Vicksburg citizens before and after the war.


Complete Historic Furnishings Report, $100,000
A Historic Furnishings Report will be developed for Pemberton's Headquarters to identify (and possibly locate original) furnishings that were present during the period (s) of significance. With this information, the park will be able to refurnish the house as it was and portray an accurate representation to the visiting public.
Develop Interpretive Media, $125,000
This project includes developing, fabricating and installing a variety of interpretive exhibits and other media to convey the significance of Pemberton's Headquarters and events that occurred there. The project also includes purchasing and installing a desk and computer to be used by staff assigned to the site.

Because the building is empty, visitors will not be able to understand the discussions General Pemberton had with his officers and the magnitude of his surrender decision made on the spot where they will be standing. This understanding will be conveyed through thoughtfully designed exhibits, displays, and other interpretive media.

Complete Cultural Landscape Report, $41,000
A Cultural Landscape Report (CLR) will be prepared and archaeological testing will be conducted on site to fully document the resoure and guide rehabilitation of the landscape. Completion of a CLR and archaeological tests will help ensure that the cultural landscape is rehabilitated while preserving the site's archaeological record.
Develop Long-Term Use and Treatment Plan, $100,000
This project will produce a Development Concept Plan and Environmental Assessment to guide long-term use and treatment of Pemberton's Headquarters. Producing these documents involves internal and external dialogue as there is much affinity for the structure among local and state residents and National Park Service staff. Several alternative use and treatment scenarios will be explored ranging from complete restoration to the 1863 period of significance to adaptive use that would accommodate administrative and other functions. Visitor amenities will be determined as well including parking and accessibility. The resulting decision document will guide alterations to and uses of the site and structure as well as additional land acquisition, if needed, for the next 15 to 20 years.
There are several issues to be decided by a Development Concept Planning process. Although the structure's national significance derives from its use by General Pemberton during the Siege of Vicksburg, there is subsequent history that is important regionally. It was used by the Sisters of Mercy as a boarding house for nuns and students. During this time, the Sisters added to and modified the structure. Two outbuildings no longer exist: the kitchen house and the privy.

The logical story to be interpreted from this site is that of the Confederate Army; however, other stories have also been suggested. The citizen story before, during, and after the siege is interesting and not adequately conveyed in the park's current interpretive offerings. In addition, the park is mandated to interpret the period of Union occupation during the Civil War through Reconstruction, but only scratches the surface of this expansive topic in its current offerings. The Pemberton's Headquarters location in downtown Vicksburg is a place to tell these stories; however, interpreting them may dilute the principle story of General Pemberton and the Confederate Army. Determining what information to interpret at the site will help guide decisions regarding use and treatment.Coinciding with use and treatment decisions are visitor amenities. Currently the structure contains 6 restrooms, however none are accessible, and they did not exist.

Donations to assist in full rehabilitation of Pemberton's Headquarters is greatly appreciated. To make a donation please contact director@friendsofvicksburg.org or please click on the donate button below.