A note from the Director...
Dear Friends,
As 2020 comes to a close, we are thankful to you, our supporters and hope that you are safe and well. This year has brought changes to our work, our operations, and all of our lives. While this year has been different, we want to take a moment to update you on the important work that has been accomplished in this difficult year, thanks to your powerful support last year.
•

Preservation: We were awarded our first American Battlefield Protection Program land grant to save an important tract of land near the South Loop of Vicksburg National Military Park (VNMP). The grant, paired with the generosity of donors, enabled this high-risk battlefield land to be saved from commercial development and ensure its preservation for future generations for education, research, and interpretation.
•

Education: Although field trips and camps were cancelled, we were able to work closely with the amazing ranger team at VNMP to support parents at home with online lesson plans and educational videos and we have helped create a traveling trunk program which should begin visiting classrooms next month. Friends of VNMP and Campaign also hosted a research intern from Gettysburg College for the summer.
•

Monument Restoration: We recast eight important cast iron tablets that had been lost or damaged through the years. Several of the tablets were replacements for tablets that were melted in 1942 in the metal drive for World War II. The tablets are now back home where they belong after more than 70 years.
•

Advocacy: Due to severe storms and flash flooding in January and February, several park roads and the Vicksburg National Cemetery sustained severe damage from landslides and catastrophic failures leaving one-third of the park inaccessible. Our aggressive advocacy ensured the right leaders toured the damage quickly and to date, $8 million has been appropriated to begin the extensive repair work.
•

Capital Projects: We were able to match private donations with fund sources to begin work on our first access and interpretation project at the newly acquired land at Champion Hill. The fully funded $550,000 project will create paved pull-offs and parking lots, orientation kiosks, interpretive panels, and an enhanced trail system near the historic Crossroads. Soon, visitors will be able to access this critical battlefield that determined our nation's future.
•

Volunteers: Although volunteer opportunities have been significantly reduced this year due to the pandemic, Vicksburg National Military Park was awarded the prestigious National George and Helen Hartzog Award for our 2019 Outstanding Volunteer Program. This award was possible because of you. Our program has grown so much, and we are eager to continue that growth just as soon as it is safe to do so.
Due to the pandemic, many visitor services at the park remain closed until a time when it will be safe to reopen. The tour road remains open so visitors can still tour the park, but the Visitor Center and U.S.S. Cairo Museum remain closed. To find out ways to safely tour the park during this time, please visit Alerts & Conditions - Vicksburg National Military Park (nps.gov)
We are where we are today because friends like you believe in our mission and this important work in this important place. It is because of you that we have been able to continue to help VNMP and further our mission during this unprecedented year. In hard times, your friends mean the most. We appreciate you! Without you and your generosity, none of this vital work is possible. We are a growing organization, with a growing park, and a growing vision. We need you to continue this important work. We cannot do it without you.
We hope to all be together again soon. In the meantime, when you need a calming image as we continue to weather this pandemic together, picture the peaceful hallowed grounds of the Vicksburg Battlefield and remember that our nation has emerged strong through countless adversities. We are grateful, now more than ever, for this Friends of VNMP community, and for your support.
With appreciation,
Bess Mitchell Averett
Executive Director
Champion Hill Battlefield Transfer Announced:
Largest Land Addition to VNMP On Record



On July 2, 2019 the State of Mississippi, the National Park Service, and the Friends of Vicksburg National Military Park and Campaign announced the impending transfer of over 800 acres of the Champion Hill Battlefield from the State of Mississippi to the National Park Service. This will be the largest expansion of Vicksburg National Military Park in its history and will create the first of three a new units of the park.
"This transfer marks the largest expansion in the 120-year history of Vicksburg National Military Park," said Robert A. Vogel, southeast regional director of the National Park Service. "The park is now better positioned to tell the story of the vital campaign for Vicksburg, how it changed the course of the Civil War and how its legacy continues to shape American culture. We thank the State of Mississippi, the Mississippi Congressional delegation and the Friends of Vicksburg National Military Park and Campaign for supporting this effort."


Mississippi Lt. Governor Tate Reeves, and US Senator Cindy Hyde-Smith were present and offered remarks. The ceremony, hosted by the Friends of Vicksburg National Military Park and Campaign, highlighted the strong need for continued community involvement to help preserve and interpret Mississippi history.
Friends of Vicksburg National Military Park and Campaign President Brigadier General Robert Crear announced a three million dollar capital campaign to raise funds for visitor use facilities for visitors at Champion Hill, Port Gibson, and Raymond, and to support interpretation at these new units. Crear announced $500,000 in lead gifts for the campaign. John Nau gave remarks about the importance of enhancing the visitor experience and interpretation in addition to preservation of the important sites.
Champion Hill was the site of the pivotal battle of the Civil War Campaign for Vicksburg. On this battlefield 32,000 Union soldiers under the command of Major General Ulysses S. Grant and 22,000 Confederates under Major General John C. Pemberton fought the largest and bloodiest action of the Vicksburg Campaign. The Union victory at Champion Hill forced General Pemberton to retreat into Vicksburg and helped seal the fate of the river city.

The expansion of Vicksburg National Military Park to include the Champion Hill, Port Gibson and Raymond Battlefields was authorized by Congress in 2014. Limited visitor facilities currently exist at the Champion Hill unit. Please contact the Vicksburg National Military Park Visitor Center at 601-636-0583 for more information.
____________________________________________
Help Repair the Tornado-Damaged Rhode Island Monument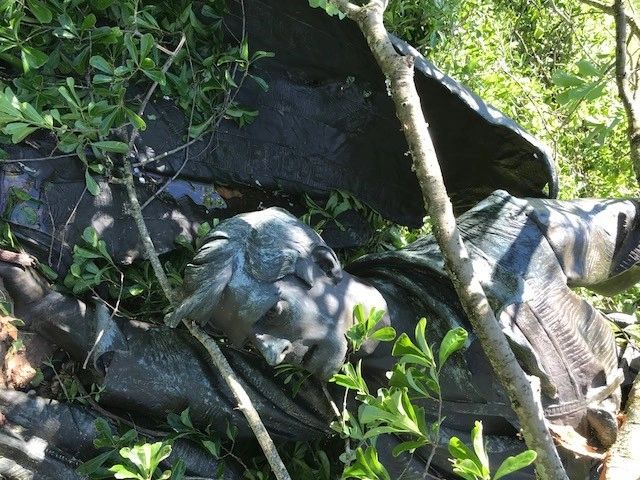 On April 13, Vicksburg, Mississippi experienced two different severe weather events, one storm with three tornadoes tearing through the town. Two of those tornadoes passed through the Vicksburg National Military Park leaving multiple trees and limbs down throughout the park. Despite the widespread affected area, the only monument with significant damage was the Rhode Island Memorial.
The Rhode Island State Memorial, sculpted in bronze by Frank Edwin Elwell, was dedicated on November 11, 1908. The statue depicts the figure of an infantryman who has picked up the fallen colors. The Rhode Island Color Bearer is a favorite of many visitors.
The monument memorializes the 7th Rhode Island Infantry. The unit was attached to Col. Simon G. Griffin's 1st Brigade of Brig. Gen. Robert B. Potter's 2nd Division, Major General John G. Parke's IX Army Corps. Positioned on Major Gen. William T. Sherman's exterior line, the unit was commanded by Col. Zenas R. Bliss. Arriving at Snyder's Bluff on June 3, 1863, they took position from Skillikalia Bayou to Templeton's and fortified that line. On June 29, 1863, by order of Major Gen. William T. Sherman, they moved east and took position from Haynes' Bluff to the railroad crossing of the Big Black River. They fortified this position and remained at that location until the surrender of Vicksburg.
The bronze sculpture was completely separated from the base in the storm, and suffered further damage as it struck the ground. The cost for repairing the monument is $20,000. The work entails repair to the masonry base and sculpture, including cleaning, repairing, and remounting the sculpture to the base. A donor has committed a generous $1 for $1 match to help the Friends raise the vital funds needed to quickly repair this important memorial.
Please act now to save this monument and aid VNMP in the extensive storm recovery efforts. The match doubles every dollar you donate toward this effort until we reach our goal. As the official non-profit partner of VNMP, all donations are tax-deductible.